Jump to Recipe Print Recipe I must be obsessed with bananas! I love all things banana, from this eggless moist banana cake that I've baked in a sufuria to banana muffins and banana pancakes! Bananas are an all year round fruit, especially if you live in the tropics and equator. They are readily available and this makes them very affordable indeed.



My journey to perfecting this eggless banana cake had its ups and downs. In my pursuit for the perfect cake I ended up with dense cakes, dry cakes, cakes that had such massive cracks at the top, burnt cakes, the list is endless. But, at the end of it all I had a cake that was worth sharing with you all.
Eggless cakes can be quite a challenge, I must say. Couple this with baking them in a sufuria or pressure cooker… and the challenge doubles. Eggs have many functions in cakes. In this particular banana cake they would have really contributed to its structure, that is, the height and texture.
The absence of eggs has never stopped me before. There are so many egg replacers and it's just a matter of finding the correct one for a recipe. Bananas are known to act as egg replacers, 1/4 cup mashed bananas to replace one egg. So, by adding more bananas to this cake to replace the eggs I had a winning strategy right there.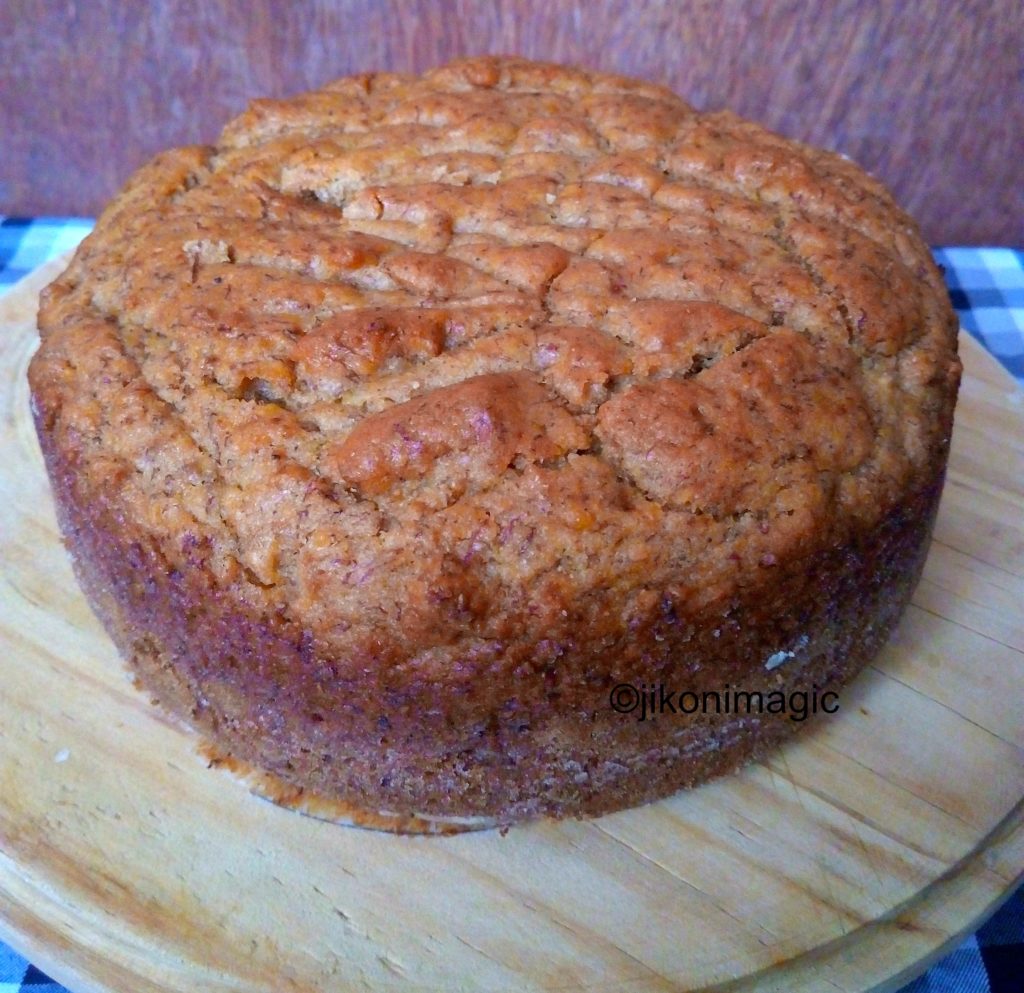 Success strategy for Eggless Moist Banana Cake in Pressure Cooker | Sufuria
Do not have a very wet batter. In my experimentation I found that a wet / loose batter resulted in a dense cake. You could add about a tablespoon or two to this batter but no more. The batter results in a very moist cake just as it is.
Heat up your sufuria oven for ten to fifteen minutes on high heat. Then immediately after placing your cake inside cover it to prevent rapid loss of the hot air. Lower the heat to medium low and bake for forty minutes. Please start checking on it after the thirtieth minute. This is especially important if you haven't yet mastered how your sufuria oven will behave as you bake.
Avoid the temptation to peep into the sufuria as your cake is baking. Relax and wait until you can actually smell the cake, this is normally a very good indication that it wont collapse as soon as cool air gets into the sufuria.
Use very ripe bananas, the darker the better. Just be careful not ripen them too much until they rot. The riper they are the sweeter they become.



Why I opted for milk powder:
A softer cake because the milk fats reduce the formation of gluten.
Richer flavour to the cake.
A richer brown colour to the cake because of the caramelization of the milk sugars as the cake bakes.
Ingredients
So now on to how I made this moist eggless banana cake:
First things first, start by assembling your sufuria oven. Add a cup of regular cooking salt to a sufuria or pressure cooker that is big enough to accommodate your baking tin. Level out the salt and ensure that it lays flat. Place a wire rack or metal plate on the salt and cover your sufuria with a tight fitting lid to ensure that no hot hair escapes in order to create that oven like effect. Place on your cooker on high heat for fifteen minutes. Alternatively, you could set your oven at 180 C.
As the sufuria oven warms up, prep your baking tin by applying a very light coating of oil or butter and a light sprinkling of dry wheat flour. Tap out the excess flour and then line the bottom with wax or parchment paper.
Peel your bananas and place them in your mixing bowl. If you are are afraid of them turning brown, then, you could add a teaspoon of lemon juice. I did not bother doing so because the rest of the ingredients followed in very quick succession. It's always good to have all your baking ingredients weighed out and measured before you start working. Next add the melted butter, sunflower oil and sugar to the bowl. I used a hand held electric mixer to ensure that everything became completely smooth. You could also use a fork if you would like to have some bits of banana chunks showing in your cake. Personally I go with whatever mood I am in. Sometimes I do chunky and other times I do smooth. For this recipe I would highly recommend that you try and whip the mixture as smooth as you possibly can.
Once your wet ingredients are smooth and completely emulsified sieve in your dry ingredients. The dry ingredients are the whole wheat flour, baking powder, baking soda, salt and milk powder. It's important to sieve them all in because this helps in two things; breaking down all the big lumps (especially the ones from the milk powder) and also to ensure that the ingredients mix up very well.



Use the folding motion to incorporate the dry ingredients into the wet ones. This will help in trapping more air into your batter. Stop mixing once all the dry ingredients are incorporated. If you mix them too much you'll end up with gluten formation which will in turn result in a tough cake. We want a soft one here. Gluten formation is good in breads, not this banana cake. Finally add the vanilla essence and fold in to the batter to distribute it through out the mixture.
Pour the entire contents from your mixing bowl into your 7 X 2″ baking tin and tap gently, about three times, on the work surface to release any large trapped air pockets or bubbles. The batter might appear to be too dry but this is just perfect, trust me, it will result in a very moist cake.
By now the sufuria oven will have warmed up sufficiently. Place your cake tin in there and make sure that it's standing properly (not tilting too much to one side) for even baking. Cover the sufuria, reduce the heat to medium-low and bake for forty minutes. If baking in an oven bake for between 30 – 35 minutes. Your cake is baked through once a tooth pick inserted in the middle comes out clean.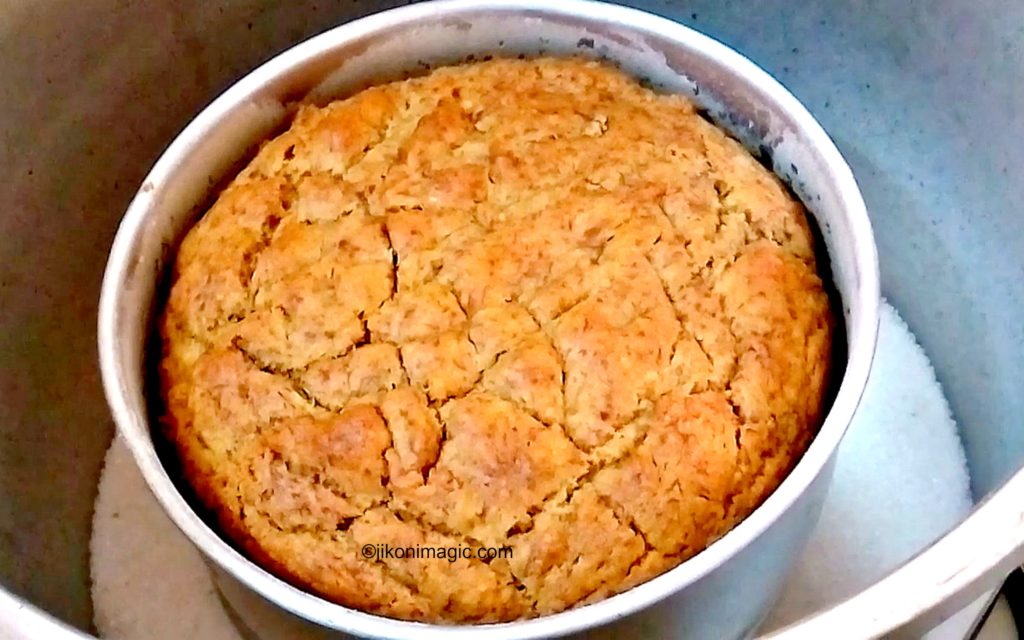 Remove the cake from the oven and leave it to cool for about ten minutes and then over turn it onto a wire rack until completely cooled down. Slice and serve with your favourite drink or just as is. If you want to enjoy it as a dessert then you could coat it with any cream of your choice.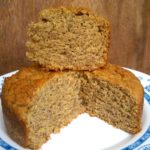 Eggless Moist Banana Cake in Pressure Cooker | Sufuria | Baking Without Oven
This eggless banana cake is moist, spongy and baked in a sufuria / pressure cooker (without an oven). The banana cake recipe is accompanied by step by step pictures, plus, a video is included as well. Enjoy all the banana delicious goodness.
Course:
Breakfast, Dessert, Snack
Ingredients
Wet Ingredients
300

g

Ripe Bananas

- 1 1/2 Cups when mashed

1/3

Cup

(80 ml) oil

- flavourless (I used sunflower oil)

1/3

Cup

(80 ml) melted butter

100

g

white granulated sugar

1

tsp

Vanilla extract
Dry Ingredients
1 1/2

Cups

(180 g) Whole wheat flour

1

tsp

Baking Powder

1/2

tsp

Baking soda

1/4

tsp

each of ginger, cardamom, cinnamon and all spice powder

- you can omit any that you don't like or have

2

Tbs

Milk powder
Directions
Start by preparing the sufuria oven. Add 1 cup salt to the sufuria, place a wire rack on top of the salt, cover sufuria, heat on high heat for fifteen minutes. If baking in oven set it at 180 C.

In a mixing bowl add all the wet ingredients and whip until completely smooth.

Sift in all the dry ingredients and fold until just fully incorporated into the wet ingredients.

Pour into a 7 X 2" tin that has been oiled, lightly floured and lined at the bottom with parchment paper.

Tap the cake tin to release any trapped air bubbles from the batter.

Place the baking tin in the sufuria oven, cover and reduce heat to medium low. Bake for forty minutes or until a tooth pick inserted in the center comes out clean. Make sure to start checking on it at the the thirtieth minute, if it's not done, bake it for a further five minutes and check again. If baking in the oven bake for thirty to thirty five minutes.

Remove from the heat and leave it to cool for ten minutes while in the baking tin. Over turn it on to a wire rack until completely cooled.
SERVING
You could slice and serve the banana cake as is or you could turn it in to a dessert by coating it with a cream of your choice.

This moist banana cake can be served as a snack or accompanied by your favourite drink.

A light sprinkling of powdered sugar will add a more aesthetically appealing look.